I decided to treat myself. It was definitely not the way I wanted to treat myself as it was from my inheritance from the passing of my father in October 2020. But, after my sister and myself got the estate straightened away – no issues but it is a great deal of work – my sister's advice to do something for myself made sense.
So… My "treat" is an HP DL380 Gen9.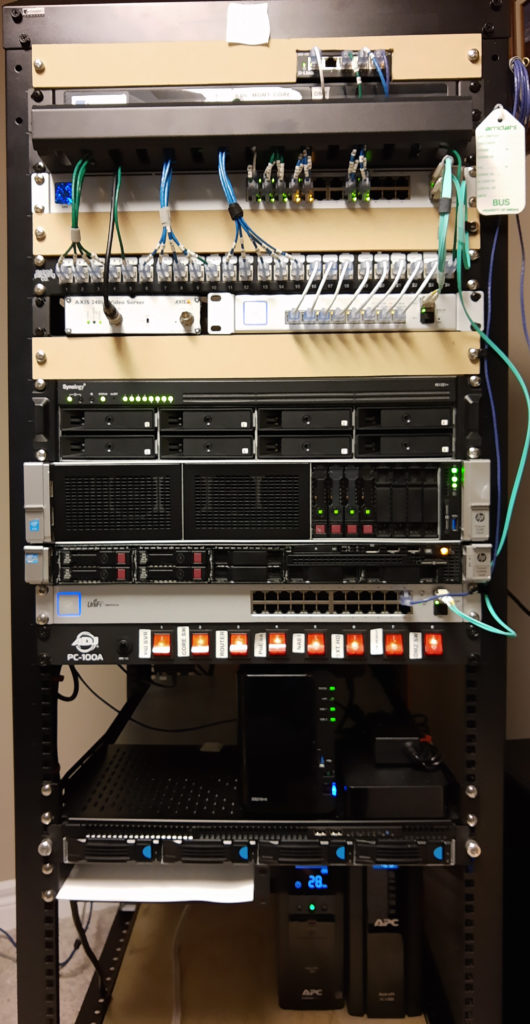 The specs are:
2 x Xeon E5-2687W V3 CPUs (25 MB cache, 3.10 GHz/3.50 GHz boost, 10 cores/20 threads)
128GB DDR4 Registered ECC RAM
4 x 400GB SSD SAS  2.5" drives
HP SmartArray P440AR RAID Controller  with FBWC
4 X GbE network ports
2 x 10 GbE via a HP FlexibleLOM FlexFabric 554FLR-SFP+ adapter
The DL360 Gen8 is a fine server but it is a little old. It also is rather loud when a fan fails. I think all 1U servers can have loud fans. The DL380 is 2U and the fans are much quieter.
The dual 10 GbE LOM card was icing on the cake. I run my VMs on the SAN although the four Hitachi Ultrastar SSD400M drives are mighty fast on the 12 Gbit/s SAS backplane (yes, they are a little old – more info here). My Synology RS1221+ has lots of storage – not super fast but good enough for a home lab. I use iSCSI (see this post for the background) and 1 GbE can be sluggish. I was planning on move to 10 GbE but I needed two dual port PCIe cards (one for the RS1221+ and the other for the server) and the cards needed to be compatible with Synology DSM and VMware ESXi 7.0. That was going to be a little pricey. I now just need the dual port card for the RS1221+ and a couple of DAC cables.
So far, I have tried out Proxmox 7 and ESXi 7. ESXi is an old friend – it just works. Proxmox is rather interesting. It has some fine features. I'm not quite sold on the different locations and file types that different file locations can use. I haven't taken the time to find out why and there probably is a reason. Still, it is odd. Being open source is nice. I like having the source code open to independent audit. That said, ESXi is used by some, shall we say, very security conscious institutions. Like other open source projects like pfSense and TruNAS the devices supported always seems to be much broader and older hardware remains supported. I did have to switch P440AR controller to IT mode. I really like that feature – real IT mode with cache turned off. It does not seem to be a bunch of individual "RAID-0" arrays. ZFS could see all the SMART info. All said, I can appreciate those who endorse Proxmox.
This was the first time I experimented with a shared iSCSI LUN using VMFS. VMFS 6 is cluster aware so multiple ESXi hosts can share the storage. I simply had to allow the iSCSI LUNs on the Synology box multiple access and give permission to both the DL360 and DL380 to mount the LUNs. All you have to do is to register the ESXi VM on the new node and Bob's your uncle. I did make sure that the network configuration and names are the same on both the DL360 and DL380. I did change the P440AR to IR mode and create a RAID-5 configuration. Yes, ESXi works just fine too.
Of note, the iSCSI issues that I had and wrote about previously did not occur at all – despite my trying to make it happen. This could be a result of either the latest ESXi update or the Synology DSM update or both.
I might give XCP-NG another try. My last attempt did not impress me. Not that XCP-NG isn't any good – it is. It is just the way it does things. Maybe it is me but I just can't get my head around XCP-NG.
Anyway, I won't be making a decision on how I'll be proceeding. I need to add the System Insight Display (SID).
Strange why it isn't standard. That treat will be opened December 25th.